Weight loss secrets to reaching your 90 day weight loss & fitness goals:
1) Consume a healthy diet for your goal and use proper supplements that are safe and effective. This is what I reccommend to any one serious about reaching their 90 day goal: www.myvi90x.bodybyvi.com
2) A well balanced exercise program with primary focus on strength training is vital because strength training builds muscle, for muscle = increased fat burning and keeps you strong. 
A well balanced program should also include: Functional training, cardiovascular training, and mobilty training. The key is to find the correct amount of each one you need and then challenge yourself so you continue to make progress and work your butt off, hard work will always pay off. 
Contact Stewart for a FREE assesment and one week of training 714-883-8940
3) NEVER GIVE UP!! Focus on your goal and why you want it. The stronger your why, the more likely you are to reach it.  
Once you have the proper diet and supplements for your goals and the correct exercise balance, NEVER GIVE UP until you reach you goal and don't let anyone or anything stop you!!
Weight loss is really not secret
It's not to late to sign up for Precision Fitness Placentia's, ULTIMATE 90 DAY GOAL CHALLENGE.   
Call 714-883-8940 today and sign up for FREE
Precision Fitness Placentia
1152 E Yorba Linda Blvd
Placentia, CA
714-883-8940
www.placentiapersonaltraining.com
---
Full body training on Tuesday at 6pm, combines strength, functional, cardiovascular and mobility training.
Full body training at Precision Fitness Placentia give you the personalized attention in a small group setting, so space is limited you must RSVP 714-883-8940  try it out for FREE!
What make this program so special and different than most program out there is we base the program on the 4 pillars of human movement.
Full body training at Precision Fitness Placentia you will get  FAT burning will get the benefits of Strength building you will increase your ability to move, but also reduce injuries.
Give Full body training a try, call 714-883-8940 for next Tuesday class!!
---
This Saturday, May 10th at 8:30 AM Precision Fitness will be having a FREE Cardio Kickboxing and Fun Fit Camp! It is open to the public, so feel free to bring anyone you would like! The class is about an hour long, and is guaranteed to make you sweat!
There is a reason we include cardio kickboxing in this workout routine. Cardio is very important to include in any strength routine, because it speeds up fast loss. There are also many other benefits to cardio kickboxing, which include:
increased energy
fat loss
faster muscle tone
increased strength and flexibility
stress relief
works EVERY part of the body
it's FUN!
We will also work in some fun dance moves in this class! It will be challenging, but we always have a lot of fun.  The Fun Fit Camp is  great healthy way to start your morning, and not to mention it's FREE! Bring a friend!
1152 E Yorba Linda Blvd, Placentia
714-883-8940
---
Get ready for Plank Day!
When: Wednesday, April 30th
Where: Precision Fitness Placentia
The top woman/man will win prizes for planking! The plank is an excellent exercise for many reasons. Planking works the core, which is an extremely important group of muscles that provide stability to the entire body. Start practicing your planking! You can practice anywhere, anytime. They only take a couple minutes to do!
---
Fat

burning, muscle is your best ally

.
Many people who want to drop a quick 10 pounds of fat  head to the gym and jump on the nearest treadmill or stair master.  When you talk about losing weight and burning fat , you're really talking about losing body fat – and cardio is not the only way to burn fat or keep it off.
If you want to sculpt a leaner figure, you need to build muscle while reducing your body fat percentage – what trainers call increasing lean body mass.  Aerobic exercise should be part of your fitness regimen, but that's only part of a solid plan.  Here are three reasons why muscle -building resistance training must be part of any comprehensive fitness and weight maintenance strategy.
Fat burning and muscle
Muscle boost your metabolism.  You burn most of your calories each day by living – digesting, working, reading thinking.  Replacing fat with muscle increases that passive calorie burn.  According to the  latest research, muscle at rest burns three times the calories of fat at rest.  Replace 20 pounds of fat with muscle and burn a extra 80 calories a day just by sitting around.   That's equivalent to losing eight pounds in a year!
Resistance training burns calories.  You might not think of weight – lifting session as a major calories burner, but intense resistance training can burn 500 calories in less than an hour.  The key to blasting the calories?  Rest minimally between sets.  Do your reps quickly but safely to increase the aerobic benefits of your lifting, include movements that use as many muscle groups as possible.
Resistance training maintains weight loss.  What happens when you do the same elliptical workout for three months?  You stop getting results.  Your body adapts to the exercise and weight loss comes to a halt.  Three varied strength – training sessions per week will keep muscles guessing and growing shoulders and arms on day one, chest, back and core on day three; lower body on day five.
Fat and muscle
Precision Fitness Placentia
1152 E Yorba Linda Blvd
Placentia, CA
714-883-8940
---
Spring fitness specials
Spring is here and swim suit season is around the corner.
Time to get in shape with Precision Fitness Placentia, Spring specials for a limited time:
buy 3 months get 3 months FREE
Buy 6 months get 6 month FREE
Includes: All small group classes, P90X, kickboxing, FUN boot camp, 2 week FIT 4 LIFE fat burning program, also UNLIMITED TRAINING & GYM USE.
Spring fitness special Must be paid in full by: April 15th 2014
Call 714-883-8940 and try it our for ONE WEEK FREE!!
Precision Fitness Placentia
1152 E Yorba Linda Blvd
Placentia, CA 714-883-8940
www.placentiapersonaltraining.com
---
Active or  Fit
When it comes to excuses for not exercising, I've heard them all.
Sometimes the excuse is self-inflicted: I don't have the time.
Other times the excuse is pure procrastination: I'm going to start as soon as tax season ends.
And then there are excuses that are downright funny: I don't like to sweat.
As delicately as possible, I point out to these well meaning excuse-makers that, even though they don't want to do it, exercise is an important part of cultivating a strong, healthy and attractive body.
I tell them that if they would just exercise 2 to 4 times each week they would feel a dramatic improvement in their daily life, starting with renewed energy and strength.
Then I bring up the health benefits and explain how many of their health problems would improve or even disappear. I talk about how great they will feel, and look, dropping those extra pounds and rediscovering a slender figure.
Even with all this experience in excuse squashing, there used to be an excuse that would leave me stumped.
The sneaky excuse of 'I'm active': Oh, I don't need to exercise with a personal trainer—I'm very active. I play golf and tennis and Wii.
Well, that is a good excuse, right? Golf, tennis and Wii are all active sports that burn calories. Maybe you can be fit without doing any other exercise…
And then I started noticing a trend.
The 'golf' people couldn't touch their toes in a simple flexibility test. The 'tennis players' couldn't jump rope for 60 seconds. The 'Wii players' needed a week to recover from a one mile jog. The so-called 'active' people encountered injury after injury.
And then it hit me.
You can't become fit simply by being active.
Only by being fit can you become more active.
To be lean and to maintain a level of fitness there is no substitute for a consistent, challenging exercise program. It's the only way, folks.
To truly be fit is when your body is able to do whatever you ask of it. This comes from a combination of flexibility, strength and endurance.
So, do you exercise?
Or are you fooling yourself with the idea of 'being active'?
How do you feel about your current level of fitness? Are you able to do each and everything you want? Or do you end up opting out of activities that you know would be too challenging?
If you've used the excuse of 'being active' in the past, take a minute to reconsider your position. Don't bank on your 'active' lifestyle with the hope of true results.
Call or email me today to get started on an exercise program that will make you truly fit.
And if you're furthest from active but simply want to lose those extra inches and pounds, make the decision to contact me today.
As they say…there's no trial run in the game of life.
Active or fit

5 Great Reasons to Exercise and be active
Here you go, 5 more motivating reasons to start a challenging exercise program today:
Exercise makes you feel better about yourself.
Exercise improves your mood.
Exercise reduces the risk of chronic disease.
Exercise eliminates unwanted pounds.
Exercise improves longevity.
One Pot Chicken Dinner with Fresh Dill
Cooking a healthy dinner at home does not have to be complicated or take lots of time. This simple recipe for chicken, shallots and fresh dill will only take you about 45 minutes from start to finish. Meals that are rich in protein and fiber and low in carbs, like this one, will help you build muscle and stay lean. Servings: 8
Here's what you need:
1/3 cup coconut flour
3 lbs boneless, skinless chicken thighs
sea salt and black pepper
2 Tablespoons olive oil
20 shallots, peeled and halved
4 garlic cloves, minced
1 cup sparkling, white wine
3 Tablespoons Dijon mustard
1 cup organic chicken broth
3 cups cherry tomatoes, halved
1/2 cup fresh dill, chopped
Place the flour in a shallow bowl. Rinse the chicken and pat dry. Season both sides of the chicken thighs with salt and pepper. Dredge through the coconut flour.
In a heavy Dutch oven, heat the olive oil over medium high. Add the chicken and cook until browned, about 4 minutes per side.
Add the shallots and garlic, cook until softened, about 5 minutes. Add the wine, mustard and chicken broth. Reduce the heat to a simmer, cover and cook for 30 minutes.
Add the tomatoes and fresh dill. Season with a little more salt and pepper. Cook over high for 5 minutes. Serve warm.
Nutritional Analysis: 283 calories, 11g fat, 242mg sodium, 8g carbohydrate, 2.5g fiber, and 35g protein
Motivate your friends, family and co-workers to be active, Use the "refer a friend" link below to forward this newsletter and subscribe your friends.
Testimonials
"I went from a size 16 to a size 10 in two months" Luara Asbill, Yorba Linda, CA
To see video testimonials log onto www.placentiapersonaltraining.com
" Thanks to Stewart, I lost 45 lbs and have more energy and FEEL GREAT!!" Rene Santos
---
Clean Eating – Recipes and Tips for Staying in Shape
written by: Erin Stone
As a health science major, I have been learning a lot about nutrition and staying in shape. It turns out that while working out is EXTREMELY important, your diet contributes to about 70% of your results! Many people feel that eating clean and healthy meals are hard and time consuming, but I have found a few recipes that I love, and I hope you will too! It turns out that healthy meals can still be delicious. I have found that the key to staying on a healthy diet is making a meal plan and sticking to it. When you have your meals all planned out, it becomes much harder to cheat on your diet. Here are some fun (and interesting!) recipe ideas for breakfast, lunch, dinner, and everywhere in between!
Breakfast
Zeggs and Zoats  (Zucchini eggs and oats)- I discovered this crazy recipe a few days ago on instagram. It sounds weird, but tastes great if you're looking for a filling, low carb breakfast! The best part is that you can personalize the recipe and add whatever toppings you'd like.
Paleo Zeggs:
Ingredients:
1 lg zucchini, grated
3-5 egg whites
1/4 cup almond milk or water
1/2 tsp vanilla extract
1 tbs + 2 tsp coconut flour
2 tbs chia or flax seeds (optional)
1 or 2 packets of stevia
add 1 tsp cocoa for chocolate zeggs!
Directions: mix all ingredients in a microwave safe bowl, and put in microwave for 2 and a half minutes. Remove and stir, then put back in microwave for another 2 minutes and 30 seconds. Top with whatever you would like! Some popular toppings are sliced banana, PB2 powder, blueberries, cinnamon, honey, slicked almonds, or other fruit. Zoats are the same general idea, but there are oats in the recipe as well for more added carbs. There are tons of recipes on the internet for different flavor zeggs and zoats!
Coconut Banana Pancakes (YUM!) makes 4 pancakes
Ingredients:
2 tbs coconut flour
2 large egg whites
1/4 cup almond milk
1/2 tsp baking powder
1 packet stevia
1/2 smashed banana
1 tbs water
a couple drops of coconut extract (optional)
topping: chocolate PB2
directions: mix all ingredients and make pancakes on a griddle or in a pan, cooking for a few minutes on each side. Top with chocolate PB2 or maple syrup and the other half of banana, sliced. These pancakes are delicious, and give you nothing to feel guilty about!
Lunch/Dinner
Baked Wild Cod (my personal favorite!)
ingredients:
1.5 lbs wild cod
2 medium yams/sweet potatoes, sliced thin
2 small red potatoes, sliced thin
1 large tomato, sliced
1 tbs tomato paste, mixed with 1/3 cup water
1/4 cup melted coconut oil
1/2 tsp garlic powder
1/2 tsp dried oregano
1/4 tsp basil
sea salt and pepper to taste
Directions: Preheat oven to 450. In a large baking pan, toss and coat all of the ingredients. It's that simple! Bake 30-40 minutes on top rack. Enjoy! Makes 4-5 servings.
Chicken Stir Fry
Ingredients:
1.5 lbs boneless skinless chicken breast
1 medium onion, chopped
1/2 orange bell pepper, chopped
1.5 cup pineapple, chopped
2.5 tbs sweet and spicy bbq sauce (or your favorite sauce)
2 tbs olive oil
1 tsp minced garlic
1/4 cup pistachios, shelled and chopped (optional)
salt and pepper to taste
Directions: Cut chicken into strips and season to your liking. In a large skillet, heat 1 tbs olive oil on medium high heat. Add chicken and cook until lightly browned. Next, add the rest of the olive oil (1 tbs), onions, bell pepper, garlic (or garlic powder), salt and pepper and cook for an additional 5 minutes. Last, add the pineapple, pistachios, and BBQ sauce and stir for 1 minute. Makes 2 servings. (from hungry happens site)
Paleo Chicken Avocado Soup
Ingredients:
6 cups chicken broth
1 tsp sriracha (or to taste)
1 lb boneless skinless chicken breast
1 avocado, diced
4 scallions
1 clove crushed garlic
salt and pepper to taste
Directions: Heat broth and sriracha on stovetop on medium heat. Dice chicken into bite sized pieces while to broth comes to a boil. When broth is simmering, stir in chopped white part of scallions and chicken. Add garlic. Let simmer for about 10 minutes, or until chicken is cooked. Add salt and pepper to taste. Serve in bowls, and divide avocado and green scallions among the servings.
Dessert
Strawberry Ice Cream
Ingredients
1 lb unsweetened frozen strawberries
14 fl oz coconut milk
1/4 tsp liquid stevia
1/2 tbsp. lemon juice
Directions: Put everything in a food processor and run until strawberries are pureed. If there are leftovers, store in the freezer! It will freeze solid, so take out of the freezer about 20 minutes before you want to eat it.
I hope you enjoy all of these recipes, I'm sure more will be coming soon! Remember, healthy  and clean food CAN taste delicious!
---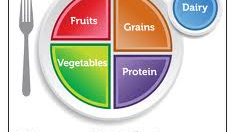 Do you need help with weight loss and balancing your diet?
Choosemyplate.gov is an excellent website for healthy eating recommendations. The Supertracker will help you plan, analyze and track your diet and physical activity. Create a profile by entering your height, weight, gender, age and physical activity levels. By entering specific physical attributes into your profile, the Supertracker can tailor the food recommendations to your individual needs. After entering your info you will receive information on how much and what to eat. Food recommendations are based on a standard  "balanced food plate" which promotes a balanced daily diet. Also, on the website you will be able to look up nutrition facts for over 8,000 foods and compare foods side by side. I hope you enjoy using the supertracker!
https://www.supertracker.usda.gov/default.aspx
---

Fun, fitness & fat burning.
Who says exercise, fitness and burning body fat cannot be fun?
At Precision Fitness Placentia we developed the FUN fit camp.
www.placentiapersonaltraining.com
What happens at Placentia's # 1 fitness camp?
Hula hooping, hopscotch, jump roping, pushups off a giant tire, a lot of fat burning, laughing and FUN!!
More FUN!
We made it even better by adding our Kick, Punch and Dance class, in this unique class you will be performing REAL kickboxing moves and during your active recovery you will be DANCING and having FUN as well as burning a tons of FAT!
We call our FUN fit camp and Kick, Punch & Dance class: Hybrid 2.0 fit camp!
This class is one hour long and you will burn up to a 1000 calories and have more fun than you ever thought possible.
Join Placentia's # 1 boot camp/fit camp us on Saturday 2/22/14 at 8:30 am
More FUN with a friend!  It's always FREE!!
call 714-883-8940
Precision Fitness Placentia
1152 E Yorba Linda Blvd
Placentia, CA
www.placentiapersonaltraining.com
---
Powered by Fitness Website Formula - Fitness Website Design
YES! Contact me today to schedule a FREE no obligation consultation and trial workout.