Active or  Fit
When it comes to excuses for not exercising, I've heard them all.
Sometimes the excuse is self-inflicted: I don't have the time.
Other times the excuse is pure procrastination: I'm going to start as soon as tax season ends.
And then there are excuses that are downright funny: I don't like to sweat.
As delicately as possible, I point out to these well meaning excuse-makers that, even though they don't want to do it, exercise is an important part of cultivating a strong, healthy and attractive body.
I tell them that if they would just exercise 2 to 4 times each week they would feel a dramatic improvement in their daily life, starting with renewed energy and strength.
Then I bring up the health benefits and explain how many of their health problems would improve or even disappear. I talk about how great they will feel, and look, dropping those extra pounds and rediscovering a slender figure.
Even with all this experience in excuse squashing, there used to be an excuse that would leave me stumped.
The sneaky excuse of 'I'm active': Oh, I don't need to exercise with a personal trainer—I'm very active. I play golf and tennis and Wii.
Well, that is a good excuse, right? Golf, tennis and Wii are all active sports that burn calories. Maybe you can be fit without doing any other exercise…
And then I started noticing a trend.
The 'golf' people couldn't touch their toes in a simple flexibility test. The 'tennis players' couldn't jump rope for 60 seconds. The 'Wii players' needed a week to recover from a one mile jog. The so-called 'active' people encountered injury after injury.
And then it hit me.
You can't become fit simply by being active.
Only by being fit can you become more active.
To be lean and to maintain a level of fitness there is no substitute for a consistent, challenging exercise program. It's the only way, folks.
To truly be fit is when your body is able to do whatever you ask of it. This comes from a combination of flexibility, strength and endurance.
So, do you exercise?
Or are you fooling yourself with the idea of 'being active'?
How do you feel about your current level of fitness? Are you able to do each and everything you want? Or do you end up opting out of activities that you know would be too challenging?
If you've used the excuse of 'being active' in the past, take a minute to reconsider your position. Don't bank on your 'active' lifestyle with the hope of true results.
Call or email me today to get started on an exercise program that will make you truly fit.
And if you're furthest from active but simply want to lose those extra inches and pounds, make the decision to contact me today.
As they say…there's no trial run in the game of life.
Active or fit

5 Great Reasons to Exercise and be active
Here you go, 5 more motivating reasons to start a challenging exercise program today:
Exercise makes you feel better about yourself.
Exercise improves your mood.
Exercise reduces the risk of chronic disease.
Exercise eliminates unwanted pounds.
Exercise improves longevity.
One Pot Chicken Dinner with Fresh Dill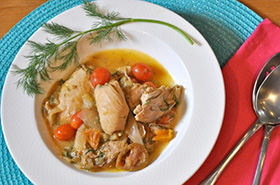 Cooking a healthy dinner at home does not have to be complicated or take lots of time. This simple recipe for chicken, shallots and fresh dill will only take you about 45 minutes from start to finish. Meals that are rich in protein and fiber and low in carbs, like this one, will help you build muscle and stay lean. Servings: 8
Here's what you need:
1/3 cup coconut flour
3 lbs boneless, skinless chicken thighs
sea salt and black pepper
2 Tablespoons olive oil
20 shallots, peeled and halved
4 garlic cloves, minced
1 cup sparkling, white wine
3 Tablespoons Dijon mustard
1 cup organic chicken broth
3 cups cherry tomatoes, halved
1/2 cup fresh dill, chopped
Place the flour in a shallow bowl. Rinse the chicken and pat dry. Season both sides of the chicken thighs with salt and pepper. Dredge through the coconut flour.
In a heavy Dutch oven, heat the olive oil over medium high. Add the chicken and cook until browned, about 4 minutes per side.
Add the shallots and garlic, cook until softened, about 5 minutes. Add the wine, mustard and chicken broth. Reduce the heat to a simmer, cover and cook for 30 minutes.
Add the tomatoes and fresh dill. Season with a little more salt and pepper. Cook over high for 5 minutes. Serve warm.
Nutritional Analysis: 283 calories, 11g fat, 242mg sodium, 8g carbohydrate, 2.5g fiber, and 35g protein
Motivate your friends, family and co-workers to be active, Use the "refer a friend" link below to forward this newsletter and subscribe your friends.
Testimonials
"I went from a size 16 to a size 10 in two months" Luara Asbill, Yorba Linda, CA
To see video testimonials log onto www.placentiapersonaltraining.com
" Thanks to Stewart, I lost 45 lbs and have more energy and FEEL GREAT!!" Rene Santos