Clean Eating – Recipes and Tips for Staying in Shape
written by: Erin Stone
As a health science major, I have been learning a lot about nutrition and staying in shape. It turns out that while working out is EXTREMELY important, your diet contributes to about 70% of your results! Many people feel that eating clean and healthy meals are hard and time consuming, but I have found a few recipes that I love, and I hope you will too! It turns out that healthy meals can still be delicious. I have found that the key to staying on a healthy diet is making a meal plan and sticking to it. When you have your meals all planned out, it becomes much harder to cheat on your diet. Here are some fun (and interesting!) recipe ideas for breakfast, lunch, dinner, and everywhere in between!
Breakfast
Zeggs and Zoats  (Zucchini eggs and oats)- I discovered this crazy recipe a few days ago on instagram. It sounds weird, but tastes great if you're looking for a filling, low carb breakfast! The best part is that you can personalize the recipe and add whatever toppings you'd like.
Paleo Zeggs:
Ingredients:
1 lg zucchini, grated
3-5 egg whites
1/4 cup almond milk or water
1/2 tsp vanilla extract
1 tbs + 2 tsp coconut flour
2 tbs chia or flax seeds (optional)
1 or 2 packets of stevia
add 1 tsp cocoa for chocolate zeggs!
Directions: mix all ingredients in a microwave safe bowl, and put in microwave for 2 and a half minutes. Remove and stir, then put back in microwave for another 2 minutes and 30 seconds. Top with whatever you would like! Some popular toppings are sliced banana, PB2 powder, blueberries, cinnamon, honey, slicked almonds, or other fruit. Zoats are the same general idea, but there are oats in the recipe as well for more added carbs. There are tons of recipes on the internet for different flavor zeggs and zoats!
Coconut Banana Pancakes (YUM!) makes 4 pancakes
Ingredients:
2 tbs coconut flour
2 large egg whites
1/4 cup almond milk
1/2 tsp baking powder
1 packet stevia
1/2 smashed banana
1 tbs water
a couple drops of coconut extract (optional)
topping: chocolate PB2
directions: mix all ingredients and make pancakes on a griddle or in a pan, cooking for a few minutes on each side. Top with chocolate PB2 or maple syrup and the other half of banana, sliced. These pancakes are delicious, and give you nothing to feel guilty about!
Lunch/Dinner
Baked Wild Cod (my personal favorite!)
ingredients:
1.5 lbs wild cod
2 medium yams/sweet potatoes, sliced thin
2 small red potatoes, sliced thin
1 large tomato, sliced
1 tbs tomato paste, mixed with 1/3 cup water
1/4 cup melted coconut oil
1/2 tsp garlic powder
1/2 tsp dried oregano
1/4 tsp basil
sea salt and pepper to taste
Directions: Preheat oven to 450. In a large baking pan, toss and coat all of the ingredients. It's that simple! Bake 30-40 minutes on top rack. Enjoy! Makes 4-5 servings.
Chicken Stir Fry
Ingredients:
1.5 lbs boneless skinless chicken breast
1 medium onion, chopped
1/2 orange bell pepper, chopped
1.5 cup pineapple, chopped
2.5 tbs sweet and spicy bbq sauce (or your favorite sauce)
2 tbs olive oil
1 tsp minced garlic
1/4 cup pistachios, shelled and chopped (optional)
salt and pepper to taste
Directions: Cut chicken into strips and season to your liking. In a large skillet, heat 1 tbs olive oil on medium high heat. Add chicken and cook until lightly browned. Next, add the rest of the olive oil (1 tbs), onions, bell pepper, garlic (or garlic powder), salt and pepper and cook for an additional 5 minutes. Last, add the pineapple, pistachios, and BBQ sauce and stir for 1 minute. Makes 2 servings. (from hungry happens site)
Paleo Chicken Avocado Soup
Ingredients:
6 cups chicken broth
1 tsp sriracha (or to taste)
1 lb boneless skinless chicken breast
1 avocado, diced
4 scallions
1 clove crushed garlic
salt and pepper to taste
Directions: Heat broth and sriracha on stovetop on medium heat. Dice chicken into bite sized pieces while to broth comes to a boil. When broth is simmering, stir in chopped white part of scallions and chicken. Add garlic. Let simmer for about 10 minutes, or until chicken is cooked. Add salt and pepper to taste. Serve in bowls, and divide avocado and green scallions among the servings.
Dessert
Strawberry Ice Cream
Ingredients
1 lb unsweetened frozen strawberries
14 fl oz coconut milk
1/4 tsp liquid stevia
1/2 tbsp. lemon juice
Directions: Put everything in a food processor and run until strawberries are pureed. If there are leftovers, store in the freezer! It will freeze solid, so take out of the freezer about 20 minutes before you want to eat it.
I hope you enjoy all of these recipes, I'm sure more will be coming soon! Remember, healthy  and clean food CAN taste delicious!
---
Fun, fitness & fat burning.
Who says exercise, fitness and burning body fat cannot be fun?
At Precision Fitness Placentia we developed the FUN fit camp.
www.placentiapersonaltraining.com
What happens at Placentia's # 1 fitness camp?
Hula hooping, hopscotch, jump roping, pushups off a giant tire, a lot of fat burning, laughing and FUN!!
More FUN!
We made it even better by adding our Kick, Punch and Dance class, in this unique class you will be performing REAL kickboxing moves and during your active recovery you will be DANCING and having FUN as well as burning a tons of FAT!
We call our FUN fit camp and Kick, Punch & Dance class: Hybrid 2.0 fit camp!
This class is one hour long and you will burn up to a 1000 calories and have more fun than you ever thought possible.
Join Placentia's # 1 boot camp/fit camp us on Saturday 2/22/14 at 8:30 am
More FUN with a friend!  It's always FREE!!
call 714-883-8940
Precision Fitness Placentia
1152 E Yorba Linda Blvd
Placentia, CA
www.placentiapersonaltraining.com
---
Kettlebells are an amazing way to gain muscle and speed up your weight loss! When used correctly, the kettlebell can prevent injury and help keep you in shape.
Our intern, Erin Stone, has this to say about her experience with kettlebells:
"Precision Fitness Placentia has taught me so much over the last couple weeks when it comes to the kettlebell! I always saw people using these in the gym, and I never picked one up because I was afraid of using an improper technique. I saw people doing all sorts of crazy things with them – swinging them over their heads and between their legs. Precision Fitness taught me how to use the kettlebell properly and I have mastered the kettlebell swings and cleans! I didn't get them right away, but when I finally learned how to do the exercise properly I really felt like I was getting a great workout. My next goal is to perfect the snatch with the kettlebell! Getups with the kettlebell are also a great full body workout. I'm glad I didn't try to do this by myself at the gym, because the movements required when using a kettlebell are very precise. We have a kettlebell workshop coming up, and I think it will be a great tool for those looking to improve their workouts and gain some new knowledge!"
Kettlebells  Workshop
Precision Fitness Placentia is having a FREE kettlebell workshop this Thursday, February 13th at 7:00 pm! Come learn about proper ways to use kettlebells. They provide a GREAT fat-burning workout when used correctly!
If you have any questions or would like to RSVP for this workshop, contact us at (714) 883-8940. www.placentiapersonaltraining.com
Any questions about Kettlebells call 714-883-8940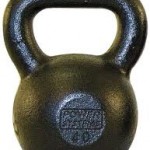 ---